200 hours Residential Yoga Teacher Training Course
Keeping in mind the urge to learn more and go deeper in the field of Yoga, Chaitanya Wellness Yoga Academy in collaboration with Yoga Alliance provides a Registered Yoga Teachers (RYT®) Training program of 200 hr. It is a one month intensive teachers training course. This TTC is internationally accredited by Yoga Alliance which is the largest nonprofit association that represents the Yoga community. Their mission is to promote and support the integrity and diversity of teaching yoga
At Chaitanya Wellness Yoga Academy all standards are maintained in imparting Yoga education to the practitioners. Graduates are awarded the (RYT®) certificates at the successful completion of the Teachers Training Course. We at Chaitanya Wellness provide meaningful and educational opportunities to equip our learners with techniques to establish a successful career in Yoga.
At Chaitanya Wellness 200 hr (RYT®) is course combines Yoga from Hatha Yoga and Vinyasa Flow. This program is meant for the beginners and intermediate level yoga practitioners. Chaitanya Wellness offers 3 months of extensive yoga training also for the benefit of the yoga practitioners, to assist them to learn and practice the yoga skills.
This Certification for 200 hr lays the foundation of the journey to advance your Yoga practice and Teaching to its next level. This intensive course fosters to build your self confidence, in such a way that it encourages you to find your own way of expression and style of Yoga teaching.
Certification:
200 Hour Yoga (RYT®) Teacher Training Course Certified by the Yoga Alliance, USA
Duration:  One month
We also have some specially planned group travel excursions and Indian cultural experiences included with this Training Program. Our Training taught by Certified, senior level Chaitanya Wellness teachers who will guide (and support) you through each part of the program and all of our programs are complete with training materials and essentials; classroom styles lecture, practice time, class feedback, group discussions, ,yoga and meditation daily and a lifetime of teacher support.
Join us in for life transforming training in pushkar, India with added travel explorations alongside like minded peers group.
 CURRICULUM OVERVIEW
Chaitanya Wellness Yoga Academy has refined and reinvented the curriculum based on the guidelines provided by Yoga Alliance. The curriculum encompasses Yogic techniques from meditation to Asana from the prevalent style of Yoga –Hatha Yoga and Vinyasa Yoga.
(RYT®) Teacher Training Courses' sessions include
Practical learning on how to perform Asana with perfection and alignment .Give an in depth knowledge on how to avoid injuries during Asana practice.
Yoga Philosophy and Ethics-Impart learning about the ethics of Yoga (Yamas) and principles (Niyamas) that govern the intellectual dynamics of yoga, as mentioned in the Yoga Sutras of Patanjali.
Sessions to prepare your body for intense yoga and meditation practices with the help of specific yogic cleansing techniques, known as Shatkriyas.
Breathing techniques-Breath-based training. Focus on the art of breath control. Teach different types of Pranayama that aim at channelizing the physical and spiritual energies towards the attainment of oneness of the mind, body, and soul.
Meditation –Sessions that teach you how to meditate and bring the mind under control to relieve stress and bring more focus in our thoughts and life. To attune your body and mind towards refined Yogic Practices through meditation.
Anatomy and Physiology-Impart knowledge not only about the human anatomy and physiology (bodily system and functions) but also make you aware about the energy anatomy and physiology (Nadis and Chakras etc) along with its application to Yogic practices (benefits, contraindications, healthy movement patterns etc..)
Dynamics to take up Yoga as a career- Specifically designed sessions that tell the participants as how to address specific needs of the individuals during Yoga session. Create their unique Yoga teaching style. Inculcate good qualities of a proficient teacher. Help to improve communication skills through group dynamics and time management. To abreast the participants with the business aspects of Yoga (including market and legal).
Spiritual discourse sessions which include Satsangs and deep discussions on life and Yoga .
CURRICULUM IN DEPTH
YOGA HISTORY AND PHILOSOPHY
History, philosophy and evolution of yoga
Practical (and tangible) yoga philosophy
Eight Limb Path of Yoga
Bhagavad-Gita
The Yoga Sutras of Patanjali
THE ART OF TEACHING
How to address a group of students
How to use your own body as a teaching tool
How to use your voice, volume, tempo, and pacing
How to correct postures
Mindful hands-on adjustments
Smart and conscious sequencing
THE BUSINESS OF YOGA
Teacher guidelines & etiquette
Appropriate conduct inside and outside the yoga room
How to apply for a teaching position
Teacher expectations
Student interaction
Role playing
Feedback
Nadis
Shatkriyas
Mudra & bandha
ASANAS (POSTURES)
Daily classes
Posture mechanics
Knowledge of asanas
Foundational yogic anatomy & physiology
Alignment & how to avoid injuries
Modifications & adjustments
Medical benefits
Sequencing
 DAILY DAY SCHEDULE
05:30 AM – 6:00 AM                       – Morning Tea/Milk
6:00 AM –  6:30 AM                        – Chanting/ Meditation
06:30 AM – 08:00 AM                     – Hatha Yoga
08:30 AM – 09:00 AM                     – Breakfast
09:00 AM – 09:45 AM                     – Karma Yoga
09:45 AM -11:00 AM                      – Freshen up
11:00 AM – 12:30 PM                     – Main Lecture
12:45 PM – 1:30 PM                        – Lunch
01:30 PM – 03:30 PM                      – Relaxation
03:30 PM –  04:00 PM .                   – Herbal Tea Break
04:00 PM –  05:30 P M                    – Teaching Methodology
05:30 PM – 06:30 PM                      – Tune with Nature
30 PM – 07:30 PM                           – Dinner
07:45 PM – 8:30 PM                        – Meditation/ Satsang
09:00 PM                                          – Lights off
YOGA SHALA
Our TTC yoga practice will be held daily inside of beautifully and ventilated yoga shala with marble floors with breathtaking views of the Pushkar towns. We feel so blessed to be holding our flow training here and hope you can join us for an amazing experience within such a sacred setting.
ACCOMODATION
Chaitanya Wellness provides accommodation for all the participants in a safe, hygienic and homely environment where they also get access to all the modern amenities while experiencing the yogic lifestyle. Each room provided to the participant is well facilitated .They have a provision for twin bed, fan, and private seating area, along with attached washroom for a comfortable stay.
The Yoga Ashram is well-equipped with all the residential facilities required for comfortable living. The highly ventilated and eco-friendly rooms of the yoga center are fully furnished with all the necessary equipments.
If you have any questions regarding room or you have room preference or any booking request so do send us a message and reserve your space.
FOOD
For yoga program to be effectively complete, equal importance is paid to proper nourishment of the body of our participants. To facilitate the same, Chaitanya Wellness serves wholesome yogic food that is duly prepared with love and perfection by our chefs. The food is completely vegetarian and sattvic in composition. Due care is taken to prepare healthy wholesome meal from freshly sourced produce only. The meals are served thrice a day to the complete contentment of the mind, body and soul.
 TRANSPORTATION
This teacher training is being held in pushkar, specifically located in the North- Eastern state of of Rajasthan. Pushkar sits along the shores of pushkar lake just outside of the famous Thar Desert.
By Airway: The nearest International Airport is Jaipur Airport .Distance from the airport to the Ashram approx. 151 km. From airport to the Ashram that can be done by taxi or by bus. Pushkar town is well connected by bus services .Local buses commute every day from major cities.
Even you can land in Dehil's Indira Gandhi International Airport (DEL) also and fro there you can use taxi or bus transportation to the Pushkar.
Pleases let us know if you have any question or need any assistance with planning your travels to India.
Send Message
 TRAINING OUTCOMES OF 200 HOUR YOGA TTC
Chaitanya Wellness Yoga Academy is a Yoga Alliance recognized Yoga school. We aim to create serious Yogis capable of taking higher practices at global level. We help to unleash the potential and dormant energies in your body.
As a 200 Hour YTTC graduate from our academy, you become eligible to teach yoga as 200 Hour YTTC yoga instructors anywhere across the globe.
With Chaitanya Wellness Yoga Academy's Non residential RYT you get an opportunity to learn and practice traditional and the most authentic styles of yoga under the esteemed guidance of highly experienced yoga teachers.
You get an opportunity and the privilege to engage in mindful, refreshing interactions with like-minded people and yoga erudite.
You embark upon the road to self discovery self realization with this program.
TUITION COST AND PAYMENT OPTIONS
Teacher Training – shared Room
(Twin bed with attached bathroom, Double Occupancy)
Fees- 999$ (68844/- INR)
Teacher Training – Private Room
(twin bed with attached bathroom, Single Occupancy)
Fees- 1245$ (85844/- INR)
Know More
PAYMENT OPTIONS
Tuition fees payments can be made via cheque, bank transfer. to reserve and guarantee your space, a down payment of $ 500 is required for this training program.
INCLUDED ACTIVITIES AND EXCURSIONS
visit to Brahma Temple which is very famous in all over world
Group meditation in ancient Shiva Ashram and Temple from the Satya Yuga Era
Sunrise hike to the Savitri Temple (dedicated to the Goddess Savitri)
Ganesha and Ganga Temples exploration
Sunset Camel Safari exploring the sand dunes and Indian countryside while riding camels
TTC schedule (2019-2020)
Coming Soon…
Our Lead Teachers:
Prashant Tak- Founding Director of Chaitanya Wellness Yoga Academy
Prashant comes with a rich experience in the field of Yoga, Naturopathy and yogic sciences .He is a Doctorate in the field of Naturopathy and Yoga from the School of Naturopathy, Gorakhpur. He gains his Masters in Yoga and Naturopathy from Jain Vishwa Bharati University. He continued his passion for Yoga by successfully completing 200 Hr and 300 hrs RYT from Yoga Alliance USA. Prashant is a registered yoga faculty with Yoga Alliance USA.
Prashant has expertise in different forms of traditional and classical Yoga – Hatha Yoga, Ashtanga Yoga and Vinyasa Yoga. He has crafted his unique style of Yoga practice, blending the three forms which he practices for the betterment and benefit of the practitioners' .He strongly emphasizes on the physical adjustments to improve alignment, while imparting Yoga sessions. He is a keen spiritual practitioner also. He strongly believes in creating awareness within oneself through meditation.
Prashant involves himself deeply in imparting the best of his knowledge to the upcoming teachers and shares his ideas, beliefs and style of yoga so as to create all around Yoga teachers.
He believes in the philosophy that consistent practice can make you achieve the impossible. His demanding style of imparting knowledge coaches the students and invigorates the well groomed personality of the students. His pragmatic approach and competency to involve with students at all levels brings out the best in each individual. He emphasizes on self discipline. His unique effervescent style of teaching blended with expert knowledge makes his classes inspiring for one and all.
Prashant firmly believes in the philosophy and yogic lifestyle of Ashtanga Yoga and constantly spreads awareness about the same in his TTC sessions. He is gentle and a devoted family man. His wife and children are loving supporters of his path. Prashant's mantra is to increase awareness and knowledge of the benefits of practicing yoga among the community.
Ms. Shreya -Program Director and Lecturer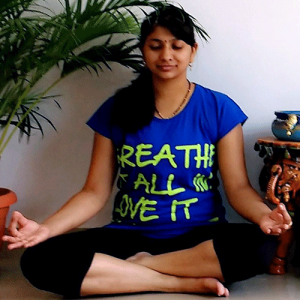 Ms. Shreya is the Program Director at Chaitanya Wellness Yoga Academy. She carries with herself a strong background in Yoga and allied sciences. She is a Masters in Food and Nutrition from Jaipur. She has also completed her Masters in Yogic Sciences from Jodhpur. She holds expertise in Basic Pranic Healing.Ms.Shreya also has successfully completed 200hr.RYT from Yoga Alliance USA and a registered yoga faculty with Yoga Alliance USA.
Ms. Shreya has done research and compiled the best information and knowledge from Hatha Yoga. Ashtanga Yoga and Vinyasa Yoga and developed the course content and syllabus for Teacher Training Course at Chaitanya Wellness. She coordinates the International Yoga Teacher training programs, ensuring that students receive the best learning experience possible.
She is a perfectionist and transpires the spirit of attaining perfection among the students, during her teaching practices in TTC. Her vibrant personality and cheerful nature keeps the students engrossed and motivated.
Ms. Shreya specializes in Vinyasa Yoga and takes session on Anatomy and Vinyasa during the TTC program. She deals with enthusiasm with the students and motivates the learners to perform their best. Her important information pointers during the session and words of wise advice are highlights of the program.
Prashant and Ms. Shreya have to their credit, successful completion of 9 batches of TTC registered under RYT (Yoga Alliance) to their credit. The graduated students have been well placed and established successful careers in the field of Yoga.
If you want to ask any questions direct to our lead teacher so click on inquire now.they will get back to you ASAP.
Inquire Now