Motherhood may be one of the most satisfying experiences that a woman can ask for, but it can also be exceedingly difficult to cope with pregnancy and childbirth. Expectant mothers have to deal with a variety of unpleasant pregnancy symptoms, from nausea and vomiting, to stomach cramps and backaches.
Prenatal yoga is a wonderful solution for expecting women as it helps prepare your body and mind for childbirth, while also helping you cope with some of those annoying symptoms. It follows a multifaceted approach to exercise, and if practiced appropriately is completely safe. Sign up for a prenatal yoga class with us and you will be surprised at how much easier pregnancy can be.
In this Blog we are not adding any benefits of prenatal yoga we are adding few stories of our students who took prenatal classes from us. Read there stories, it helps to guide you as well as motivate you to being active and healthy in your pregnancy period.[/vc_column_text]
Mamta Kumari
I have always been in touch of exercise or work out and was worried that will get out of touch with it during pregnancy….. But in my 14th week of pregnancy I joined the Chaitanya wellness yoga studio for prenatal classes and I must say that this was the best gift I could have given to myself during my pregnancy.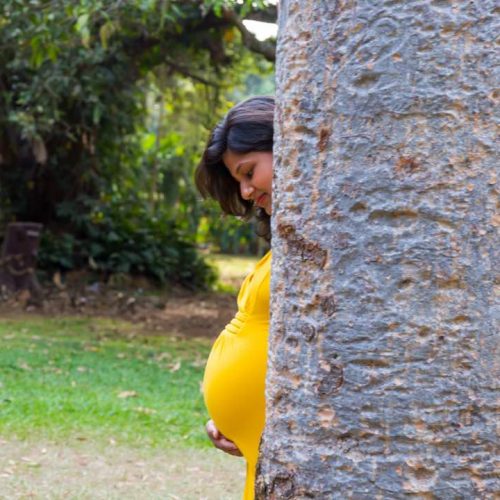 The instructor Ms Shreya is very experienced and soft spoken so never hesitated to clear my doubts as it was my first pregnancy. Every asanas she explains very nicely with its benefits.
My pregnancy days were very hectic but everyday I used to eagerly wait for evening to rush to the classes where I could spend time with myself and felt so relaxed. That one hour I spent there everyday was the most pleasant and calming. I never felt any back pain or stiffness during pregnancy.
Apart from the class her tips, advices and guidance have been immensely helpful to prepare myself for the delivery.
So I would recommend Chaitanya prenatal classes for all expecting mothers or otherwise too for everyone.
Aishwarya
I made up my mind that I didn't want a caesarian delivery, as soon as I got pregnant. At that time, my knowledge was limited about the various other factors that lead to caesarian or normal delivery. So I set out walking, climbing stairs and all that I could think of to keep me active. But then when I learnt of prenatal yoga, I wanted to try it out. A bout of cold and a nasty cough made sure that I could not set out on yoga until I was way into my 6th month. But still I decided to give it a try and found Chaitanya wellness yoga centre nearby. It was the right time too, because swollen feet and general tiredness of the last trimester had started to creep in by then. All the great ideas about keeping myself active needed more motivation than I could muster.
Prenatal yoga helped me unwind after a long day at work, it helped me calm down and concentrate on my baby. I could connect with her and feel a great peace by the time I finished a session. In the final months especially, when moving along with a big belly was tiresome, yoga kept me fit and active. I went till the end, and it was the best decision I made. Everyone has a general fear as the due date approaches, yoga helped me stay calm and peaceful. I would recommend it to every pregnant lady for sure.
Radhika
At 85 kgs. Life is not easy. People think of you as fat, slow, weak,ugly and generally boring. I felt I was all of that and then I got pregnant! Having recently joined a Health care organization, many doors were opened for me to understand human body , its function and reaction to pregnancy . I made up my mind to become healthy not just for myself but for my baby and our future. During the second month of my pregnancy I signed up for yoga. Shreya was had a year a half old daughter then, was the perfect teacher. A teacher who could answer all my questions , understand my health issues even when I did not tell her. I knew i was in safe hands from day 1! All the pre natal yoga i did with her in her studio thrice a day made me relaxed, upbeat and thin! By the end of my 2 nd trimister i had lost 12 KGs although i felt great , i was worried that my gynec may ask me to put on weight. Being surrounded only by positive people like my husband, shreya and colleagues . I never had encountered all the granny talk and myths that surround pregnancy . My gynac was happy with the weightloss as now my body was ready to make my baby put on weight! . My pregnancy was a dream! A text book example! Perfect ! Delivery was something I was worried about and shreya would always pep me up by telling me what to expect! The breathing techniques i have learnt and followed from shreya in the last 4-5 months of my pregnancy prepared me physically and mentally to deliver a normal healthy baby! Today my son is 15 months old! Altought I am 72 Kgs right now, Mother to a 15 month old happy and healthy baby, my heart aches that i cannot get back to yoga with shreya right away, but i know i will soon! Shreya's yoga worked like magic with me. I miss working out with her. If there is anyone who wants a fuss free dream text book like clean pregnancy and delivery, you need a friend and mentor like Shreya and they are not easy to find!
Few more stories are yet to come. Keep stay with us.
[/vc_column][/vc_row]